Cutting Ur Curls
Posted on 13 September 2018
There's no denying that a proper cut can not only keep your curls healthy but bring out the bounce, texture and overall look of your hair. However, there are still those who cringe at the thought of a haircut.
So before picking up the scissors or booking your next appointment, there are a few things to consider when deciding how to cut your curls.
Wet vs Dry
Curly hair tends to lay drastically different when it's wet; curls can go from super stretched to super shrunk when dry and we can even have varying textures throughout our hair.
Opting for a dry cut is a good way to give your stylist the ability to see how your natural curls fall and frame your face. This way they can watch the shape of your hair take form throughout the cut and styling process and eliminate the element of surprise.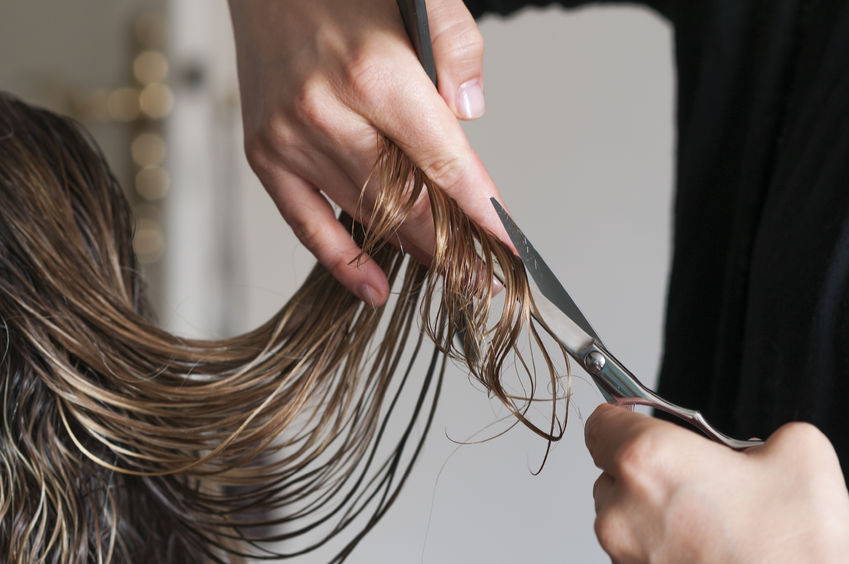 Straight vs Curly
If you're rocking your natural curls on the regular, it only makes sense to cut your hair while in its natural state for the same reasons you should cut it dry.
No two curl patterns are exactly the same, even if they exist on the same head! Some curls are looser and hang a little longer, while others are tighter and springier. Straightening your hair before your haircut appointment doesn't allow your stylist to see the pattern or the shape of your hair and as a result can make a cut appear uneven when you revert back to your natural curls.
The Long and Short of It
It's surprising how much a simple cut can transform your hair. We joke about our curls having a mind of their own but certain factors can actually cause curly hair to behave differently.
The length of a curl is something that a lot of people neglect to consider. You might notice that as your hair gets longer the texture seems to change. But does your hair type actually change? In this case, it's probably more likely that the length and weight of your hair is pulling your curls down and making them appear looser. Think of it this way:
Length = Weight = Stretched Curls
The shorter your hair becomes, the less heavy it will be. The less your hair weighs, the easier it is for your curls to spring up!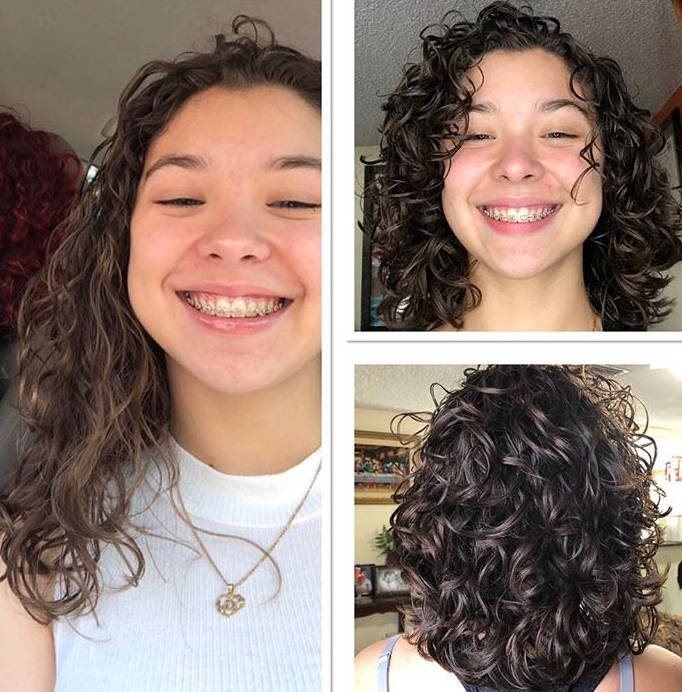 Check out Giovanna's (IG: @giovannaa.r) amazing curly transformations after her recent hair cut!
But what about #hairgoals? The thought of sacrificing length to keep our curls popping can be a little disheartening, but luckily there is a way around it.
Consult with a stylist, (someone who knows their way around curly hair), and tell them the vision you have for your hair. A good stylist should know some great cutting techniques that will help remove weight and retain length at the same time. That way you can rock long luscious locks and springy bouncy curls at the same time.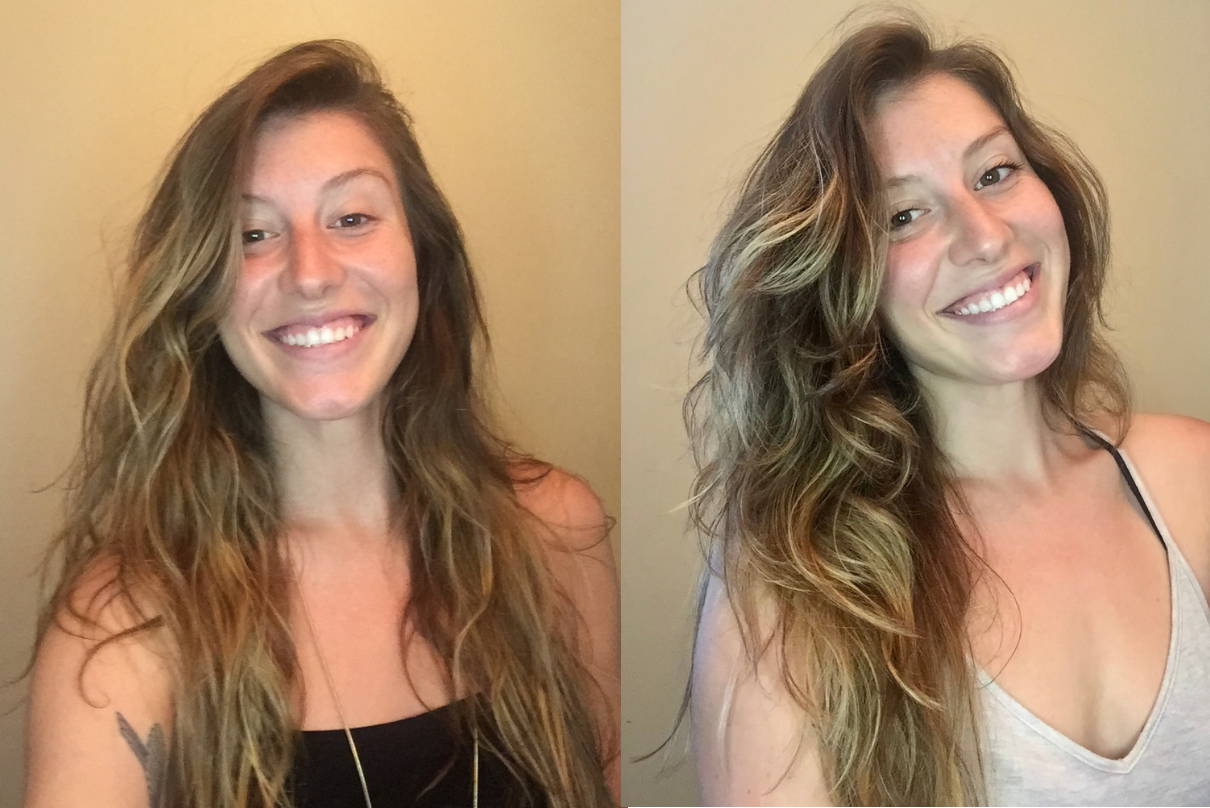 Dead Ends
This one's a no-brainer. Getting rid of damaged ends and fairy knots is the fastest way to get your curls to spring back. Split, dry and damaged ends can have a pretty big effect on your curl formation and shape of your hair. Split ends and dry ends hinder clumping, encourage frizz, and make it harder to last until wash day. Damaged ends can really change the texture and appearance of your curl pattern making it difficult to style and maintain.
It's All In The Technique
So what actually makes a good cut? We find that it all comes down to technique. But, like anything, there are so many ways to go about cutting and styling curly hair. So we broke down a couple of methods that will work to get those curls poppin'!
Let's Be Blunt About It
To create a blunt cut, your stylist will use a pair of scissors, or shears and cut straight across the length of the hair. Stylists believe this technique is perfect for curly girls who want to not only reduce volume but achieve better definition.
Texturize
Instead of cutting straight across the hair, the stylist will angle the shears down creating a more tapered look on the ends. Some curlies prefer this technique because they feel like it is a much more natural and effortless look, especially compared to the blunt cut.
Internal Cutting
Also known as 'invisible layers', this method is great if you have a lot of thickness and density and are looking to cut out some weight and bulk. It typically involves snipping in the middle of the shaft in small sections of hair hidden in between or beneath other layers. This makes the cut virtually invisible. It's ideal for those who want to rock long curly hair but also want to maintain volume and bounce.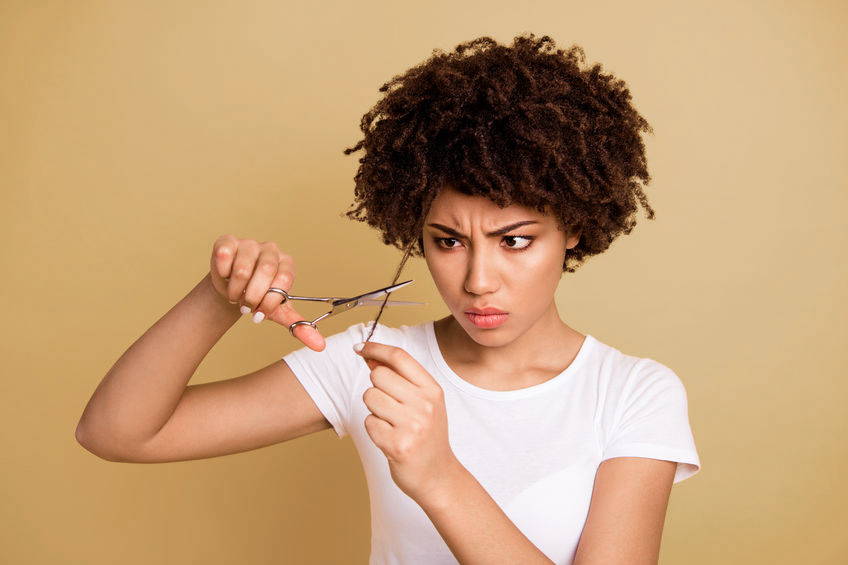 Call On The Experts
While it may be easy (and certainly more affordable) to trim your own ends, we always recommend that you consult with someone who specializes in curly hair for any drastic changes you'd like made to your length or shape. A curly cut can be quite a task and will likely involve some research, but finding the right stylist can really transform your curls. Who knows, you might end up loving them even more than you already do! :D
---