Simplify Ur Curly Hair Routine
Posted on 09 January 2019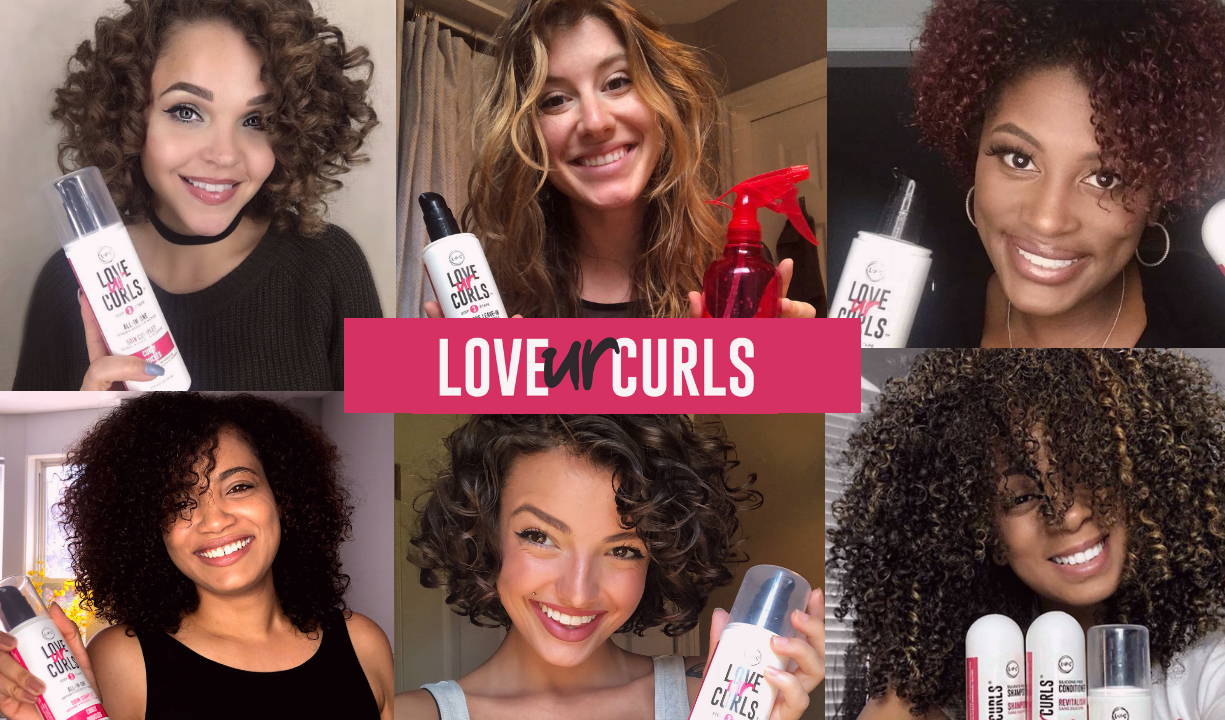 ---
Look into your bathroom cabinet and what do you see? PRODUCTS. PRODUCTS. And MORE PRODUCTS! It's no secret that some of us curly girls have our own personal beauty supply store right under our sinks! We've been conditioned to think that we need to apply products, upon products to our hair to achieve smooth, soft, defined curls.
The Problem: Our Wash N' Go Routines
First, we apply a leave-in conditioner of some sort to hydrate and moisturize our hair. Next, section by section, we slop on some kind of a gel, mousse or cream to define our curls.
And for some of us, this still isn't enough! Depending on our hair type, length and texture, we may add a third product for additional definition and softening and top it off with a serum or spray to give it some shine.
I

s this what we're calling a Wash and GO routine?
What have we been putting ourselves through all these years and WHY?!

The worst part is that most products that offer great defining properties will usually make our curls sticky, hard or crunchy and are chock full of harsh ingredients. Even though we know this, sacrificing definition for the "F" word (frizz) is just not an option, right?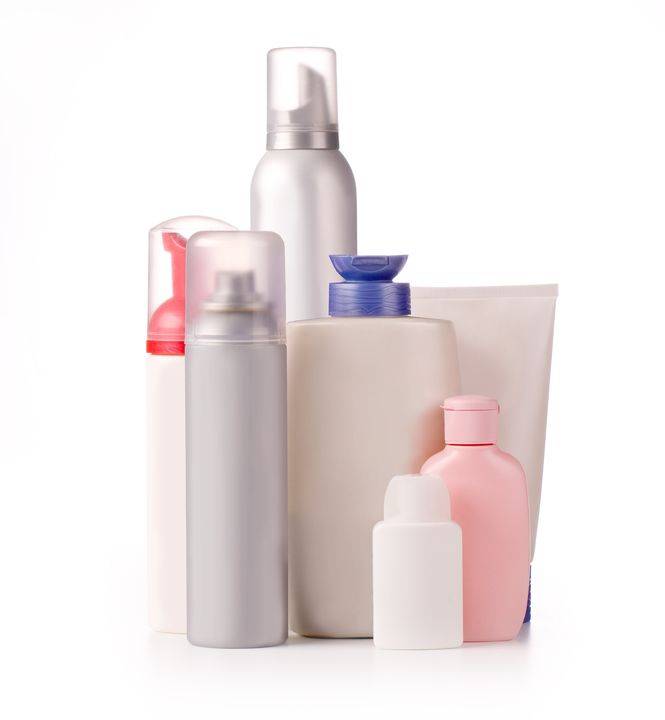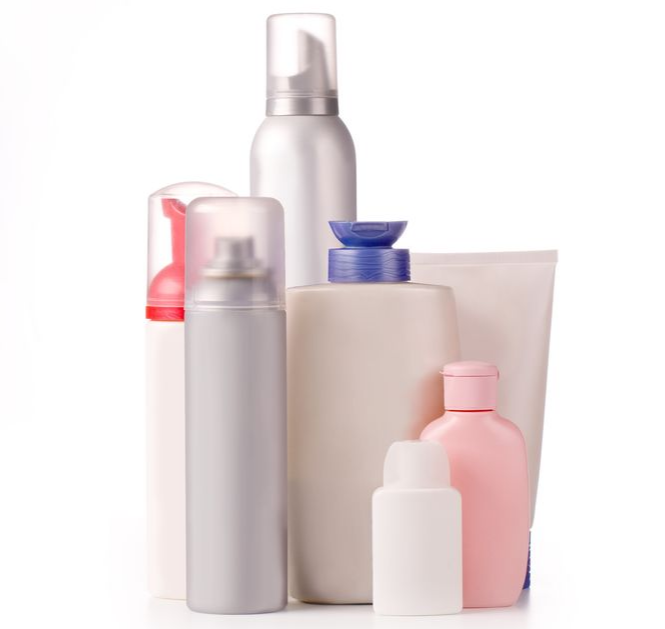 Here at LUS, we refuse to accept that curly hair has to be THIS complicated. We knew there was an easier way. There are just better things we could be doing with our time than applying layers of products on to our hair after each wash. And since we couldn't find the perfect formula on the shelves, we decided to create what we needed! And that is how the Love Ur Curls line was born. 🙌
The Solution: An All-In-One Formula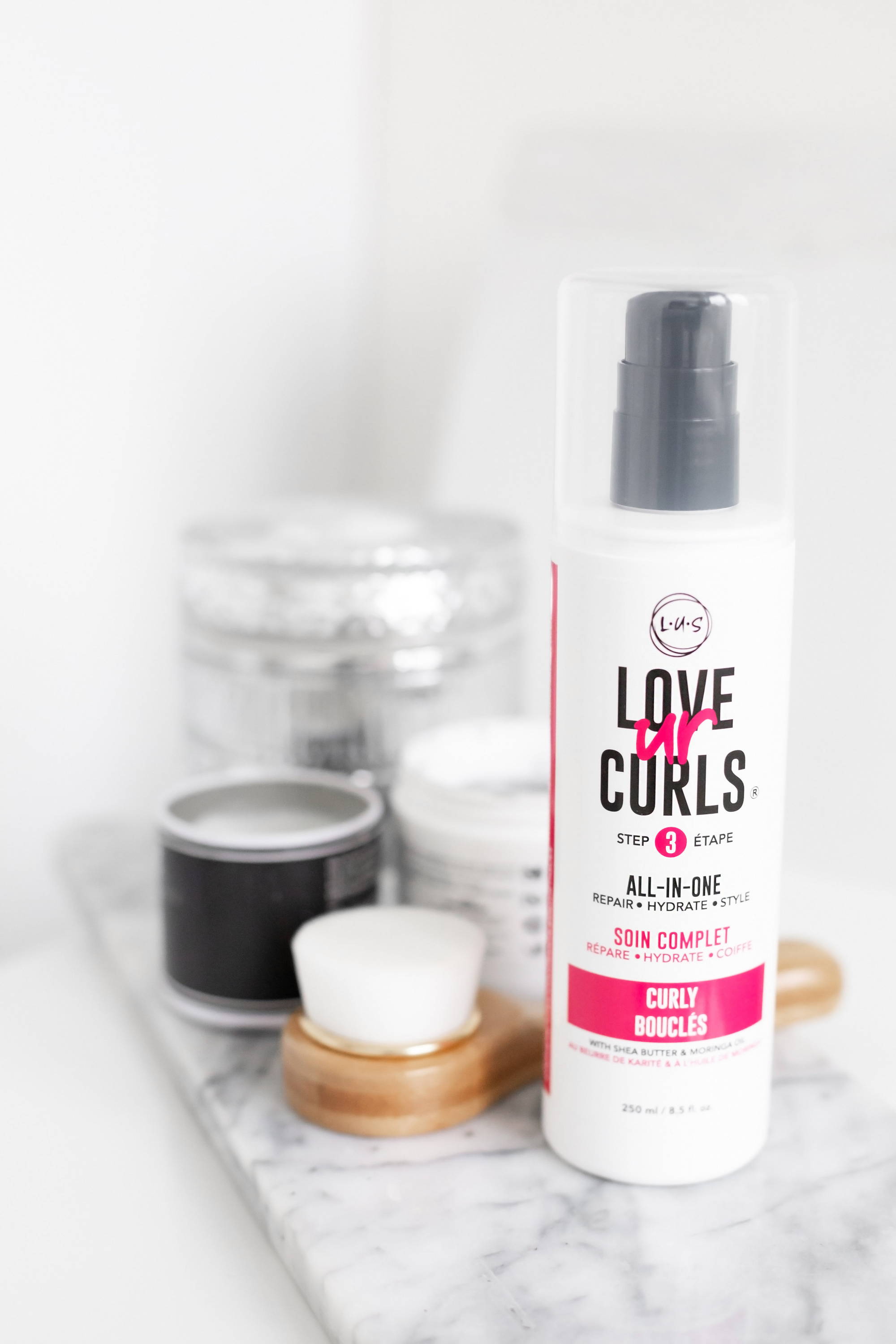 What do we mean by "All-in-One"?
We mean that you really shouldn't need anything else except for THIS ONE PRODUCT for your post-shower styling needs.
What does it do?
This product was designed to replace your leave-in conditioner AND your styling product, and will also help repair some previous damage over time (depending on just how much damage you've put your curls through over the years).
It's not often you come across a curl product that can style AND maintain the health of your hair. But we believe that beautiful, luscious curls are best achieved by caring for them from the inside-out. Which is why we've included powerful ingredients like moringa oil and shea butter to provide your hair with the nutrients it needs while still leaving you with soft, defined curls.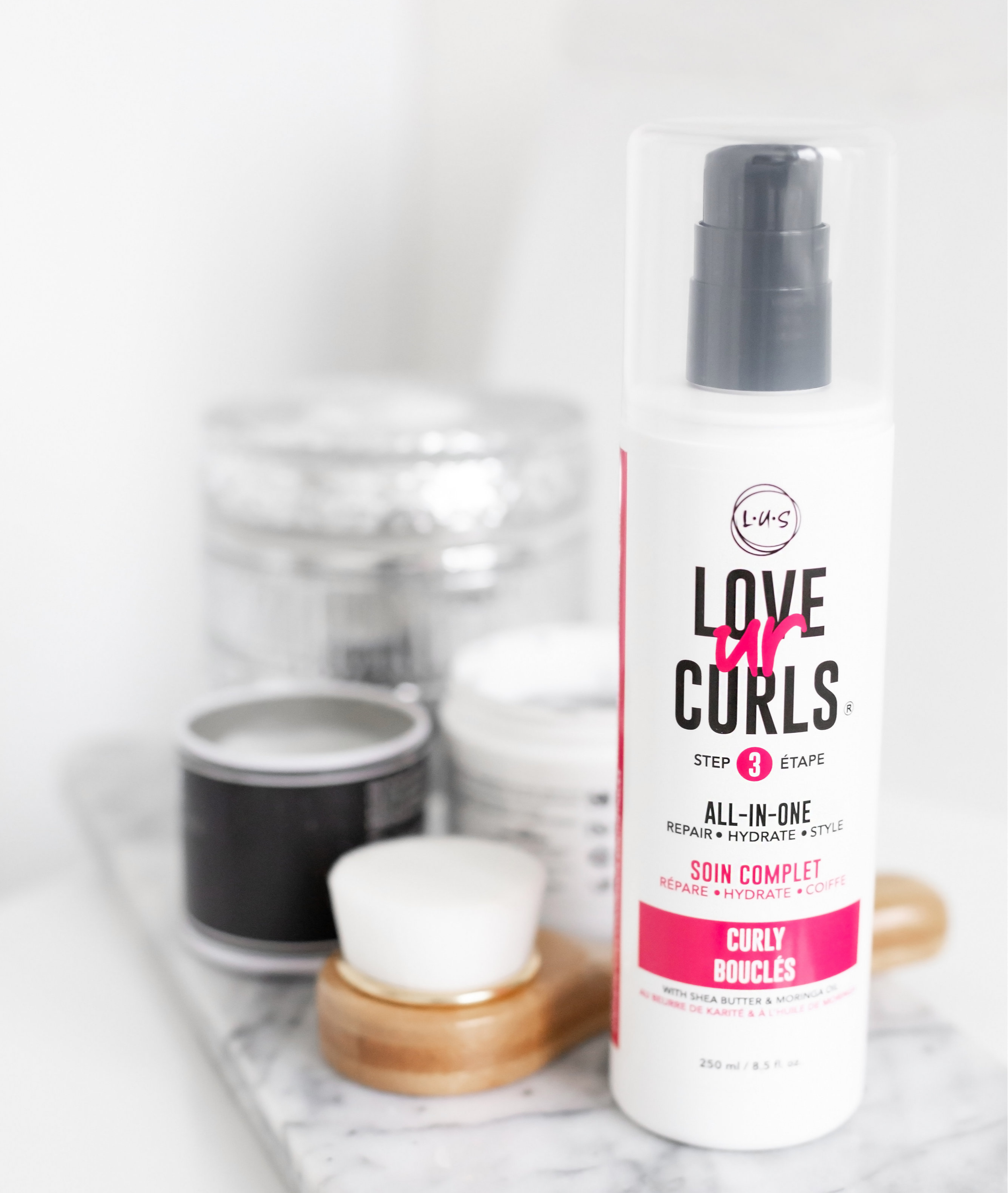 How do you use it?
After you step out of the shower, use a cotton T-shirt or microfiber towel (NOT a regular towel) to absorb some (not all) of the excess water from your hair. When you're ready to style your hair it'll need to be relatively wet in order for the product to work effectively. Our formulas are highly concentrated so a little can go a long way.
Work in sections using a spray bottle to rewet your hair. Water plays an important role in activating the formula so be sure that each strand of hair is saturated before applying your product. Pump the product into your hand, rub your hands together, and run/rake the product through your hair, from root to ends.
You're probably wondering is that it? Yup, thasss it! One product. Apply and get on with your life, it's a simple as that.
But what if I want my curls REALLY defined?
No problem. Just take your time and apply in smaller sections like our founder demos here. Experiment with different techniques like plopping or smoothing to encourage your curls to clump together.
Making sure you're cleansing and conditioning your hair properly before styling is also a major step. We recommend using the Love Ur Curls Shampoo and Conditioner so that everything you're putting in your hair is compatible and working well together. This way you can be sure that your curls are reaching their full potential and you're getting the most out of your All-In-One styler.
Check out our Big LUS Info Page for some tips and tricks and to see how other curlies style their hair with our product.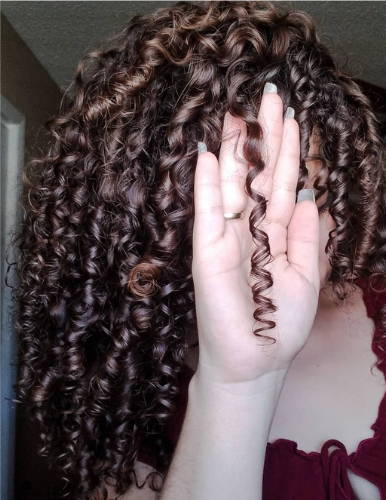 Once you've finished styling, make sure you don't manipulate, play or mess with your curls before they've completely dried to prevent frizzing. You can air dry your curls or to save time you can try diffusing, whichever one works best for you. You can also style it up, braid, twist or do anything else you want to do with your hair! The point is….with the right application, this one product can replace so many others you currently stock under your sink.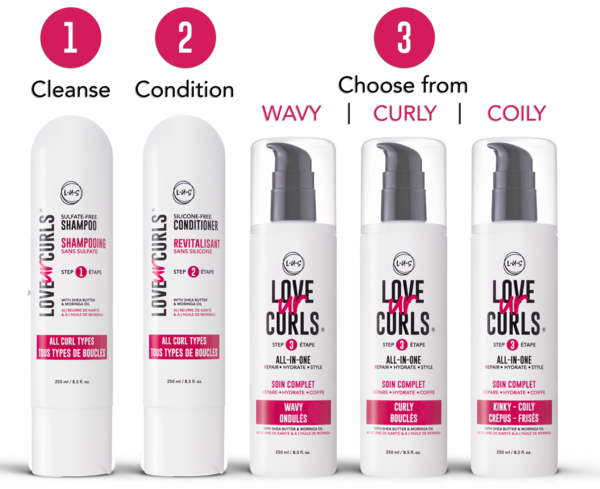 Our formulas are customized to suit the needs of different curl types. Depending on your curl texture, each formula will deliver something different.
Wavy: The LUS, Love Ur Curls Wavy All-In-One is a super light formula designed to style and define wavy hair without weighing it down.
Curly: Our Curly All-In-One was made to enhance your natural curl pattern by providing it with the moisture and hydration it needs to fight frizz and boost definition without leaving a crunchy cast on your curls.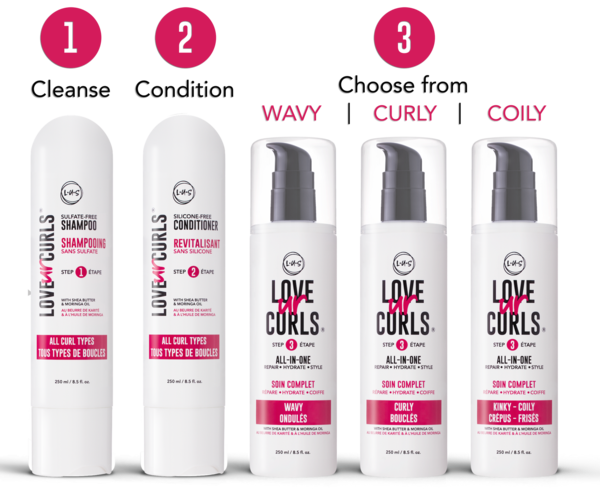 Kinky-Coily: Finally, our Kinky-Coily All-In-One has added moisturizing and curl-activating ingredients. This formula is super rich and will leave your kinks and coils soft and defined without feeling heavy or sticky.
Not sure which formula is right for you? Check out this page to see what other customers have used! 💁🏽
Curly Hair DOES Care
We believe that the look of your curls is tied closely to the health of your hair.
This is why each of our products is made to not only help enhance and define your natural curl pattern but hydrate, moisturize and repair your hair as well, ultimately eliminating the need to layer on multiple products in excess. The best part is that we've made these formulas super concentrated and water activated so that a little really goes a long way.
But that's not all there is to it! We're curly girls too, so we know all too well how important it is to stay away from harmful and harsh ingredients that are found in many cleansers, conditioners and stylers.
As a result, we excluded the following ingredients from ALL of our formulas:
Sulfates, Silicones, Parabens, Paraffin, Phthalates, Propylene Glycol, DEA, Mineral Oil, Gluten, and Synthetic Dyes.
Removing all these ingredients from our products while still making something that just works, was no easy feat! But we did it and as a result, you won't experience any film, waxiness or product buildup!
The result? Hair that stays feeling clean longer between washes, thereby extending your wash cycles, and since our formulas are lightweight and water activated, refreshing your next day curls is no hassle.
Imagine a leave-in that doesn't leave your scalp itchy after a day or two, doesn't flake, doesn't make your hair stick or matte together, doesn't cause knots and tangles…This is why we call it an ALL-In-One!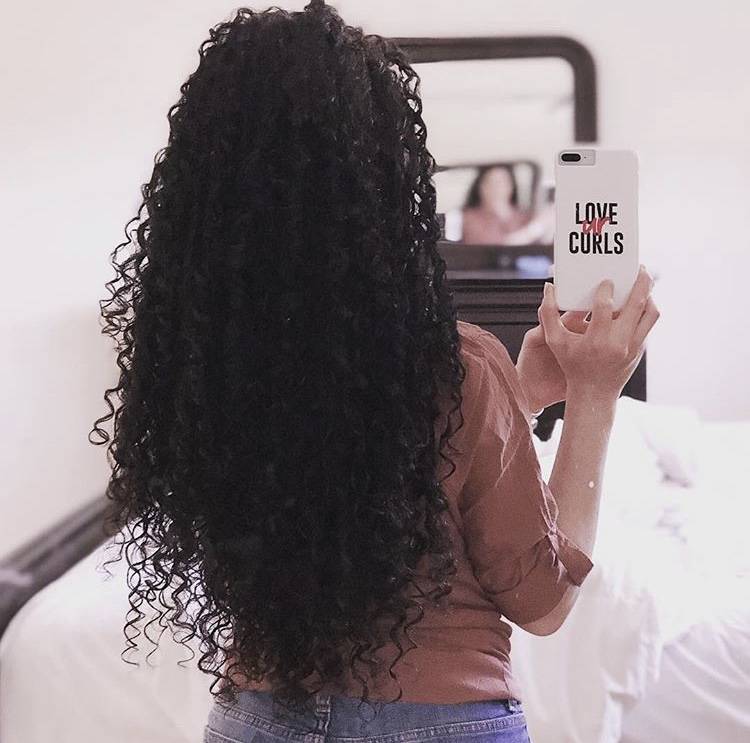 Application & Experimentation✨
It's important to remember that everybody's curls are truly unique and that's what makes them so wonderful! But what it also means is what may work for someone else may not work for you. It's why we encourage experimenting with different application techniques. Use your previous experience with your hair to guide you but also try to branch out and explore what works for other curly girls with similar hair types.
Chances are you'll discover a method that works great for you!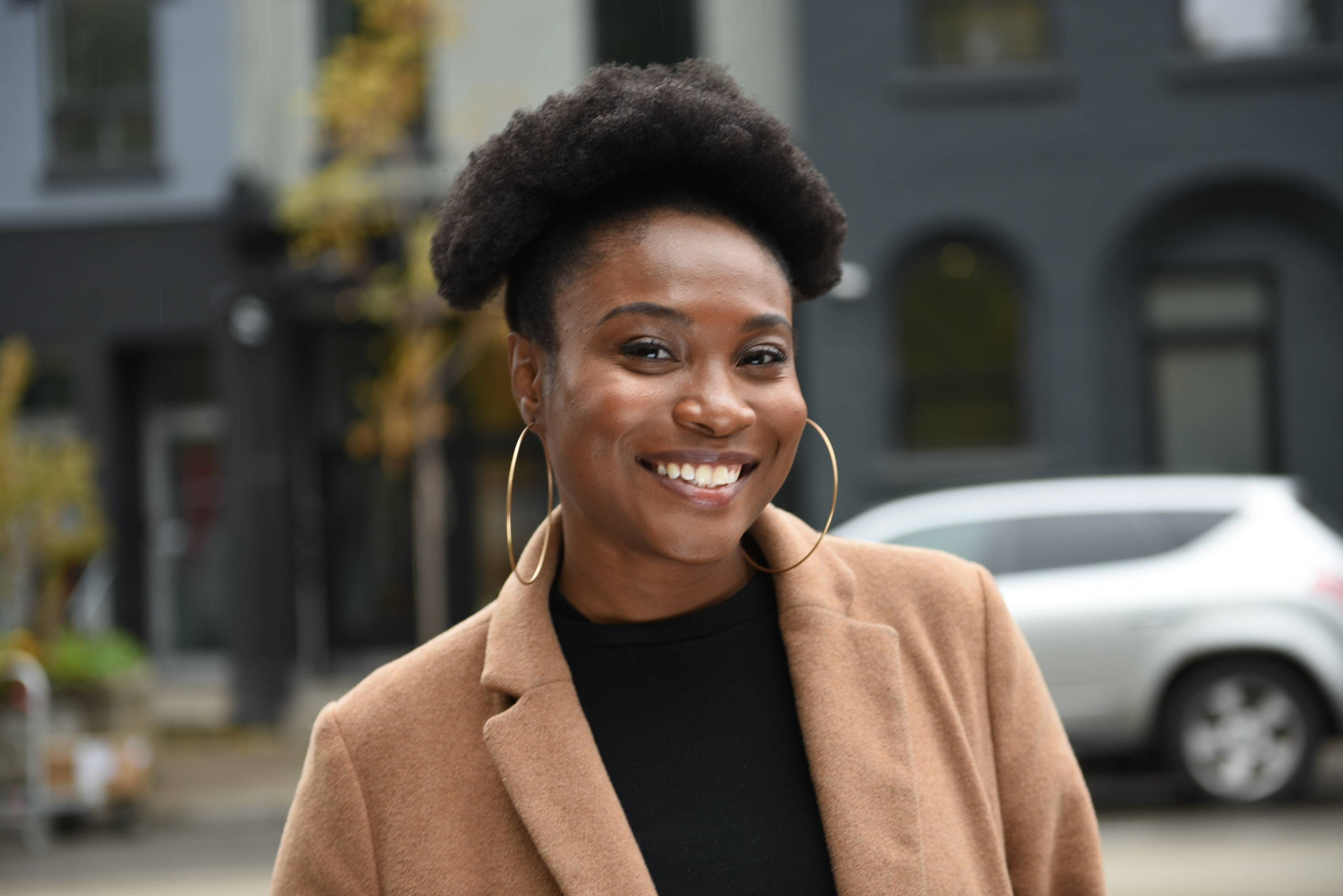 ---